Meeting and Ceremony time
Captain meeting: on Wednesday,Mar.4 at 17:30-18:15
Opening ceremony: on Wednesday,Mar.4 at 18:30-20:30
Closing ceremony: on Saturday,Mar.7 at 19:00-22:00
Award ceremony: on Sunday,Mar.8 at 15:30-16:00
Schedule
4th March 2020 (Wed)
Arrive in Narita Airport Before 1pm,Shinsyoji Temple:Player session
Captain meeting
Opening ceremony
5th March 2020 (Thu) – 8th March 2020 (Sun)
Preliminary Round Day1 – Day3 and Semi-finals and Final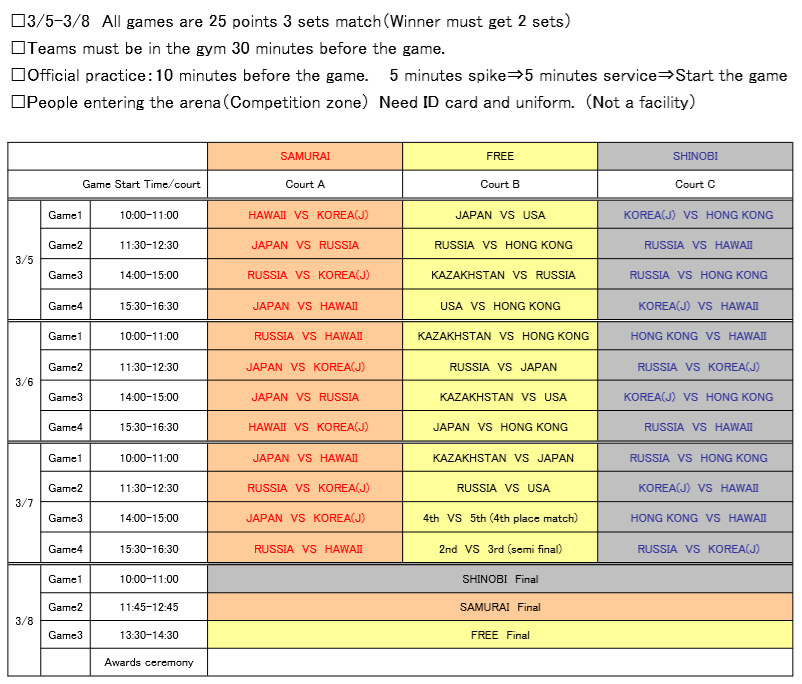 7th March 2020 (Sat)
Closing ceremony
8th March 2020 (Sun)
Award ceremony
1Teams to be dismissed 4pm.
The participants can enjoy a wide range of tours such as visiting a castle, shrine, ancient ruins, aquarium, theme park, and hot springs, or try net fishing, strawberry picking, and Japanese choreography. There will be something for everyone. Players will have a half day for recovering and sightseeing on the 5th and 6th and 7th March.
There will be 2-3 games (first 2 sets to win) a day on the 5th, 6th, and 7th March. The semi-finals and final are to be played on the 8th.
The organizer will make sure that the schedule will be manageable for each team. In the case where sightseeing is not required and the preparation for the tournament needs to be prioritized, we will create an itinerary for the team accordingly.
Events will be held around the gymnasium during the tournament.
Please look forward to!